Post by Ryu Terui on May 7, 2013 11:39:14 GMT -6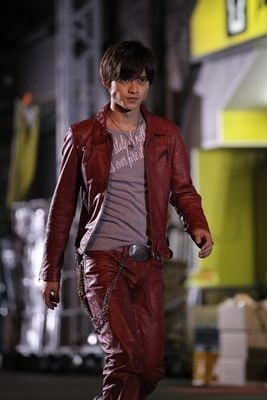 The BasicsName:
Ryu Terui
Age:
28
Sex:
Male
Species:
Human
Date Of Birth:
November 22, 1984
Nationality:
Japanese
Hometown:
Nagoya
Occupation:
Superintendent of the Fuuto Police Department's Paranormal Crime Investigation Division
Alignment:
Lawful Good
Theme Song:
Leave All Behind
Outer StuffFace Claim:
Minehiro Kinomoto
Height:
175cm
Weight:
62kg
Hair color:
Black
Hair style:
Got a bowl-cut thing going on
Eye color:
Brown
Skin color:
Asian
Posture:
Straight, tough
Scars/ Tattoo's/ Other markings:
Accessories:
his necklace, his wedding ring
Clothes:
Always (and I mean always) wears his red leather jacket and red leather pants. Shirts will vary.
Anything Else?Inner StuffLikes:


Justice


"Chief"



Living in the fast lane



Dislikes:


Criminals


Waiting in lines/traffic



Paperwork



Strengths:


His body's durability is almost superhuman (which is why Shroud chose him in the first place to become CycloneAccel Extreme).



He pursues criminals and explores cases with a boundless ferocity and unwavering spirit.



Before his father was murdered, he taught little Ryu all kinds of things about mechanics so now if anything's wrong with his bike he can most likely fix it himself.



Weaknesses:


Stubborn as a mule



Can be quite oblivious to things at times



He's not very safety conscious so he'll often do things that could possibly put his life in danger even though the danger could have easily been avoided in the first place.



Goal(s):


Defeat Museum and put a stop to the influx of Gaia Memories into Fuuto.



Habits/ Quirks:


Has several catchphrases including "Don't question me." when he's actions are being questioned, "Now, let's break away!" after he henshines, and "Despair awaits you at the finish line." when he performs his Maximum Drive.



Sometimes takes things too seriously like a game of checkers or when somebody says something that's not meant to be taken literally.



Relationships:


Shotaro Hidari and Philip - Fellow Kamen Riders and friends. They occasionally help each other out on cases and their fights against Museum. Ryu can usually be found hanging out at the Narumi Detective Agency when he's not on duty.



Akiko Narumi-Terui - Ryu's wife. She can be quite bossy at times, but can also be quite kind and fun to be around. Ryu still refers to her as "Chief" despite them being married.



Shroud - Ryu's mysterious benefactor who gave him all his cool toys. He hasn't seen Shroud around in awhile and is wondering if anything has happened to her.



Overview:
When Ryu Terui first arrived in Fuuto, he was man consumed with revenge. Now that he has finally obtained his revenge against both of the monsters that have taken his loved ones away, he has become a happier man who finally has a chance to move on with his life. Just because he has finally accomplished his life goal since he was only a beansprout does not mean he is finished, he continues to fight Dopants to this day alongside Shotaro Hidari and Philip as they protect their city - a city he has come to think of as his cherished home.
Hero StuffName:
Kamen Rider Accel
Type Of Hero:
Kamen Rider
Henshin Device:
The Accel Driver and Accel Memory
Henshin Sequence:
He pulls out the Driver and places it around his waist. He then whips out the Accel Memory and clicks up open, then says, "Henshin." and slots the Memory in. He revs the handle a few times, and the Driver announces, "ACCEL" and his armor then forms.
Forms:


Form Name: Accel Form
Image/ Description: ACCEL
Motif: Motorcycle, Armor, Accel
Color Scheme: Red, Black, Silver, Blue
Transformation: See above
Fighting Style: Tries to finish the fight in as few a moves as possible with him breaking out his Maximum Drive the first chance he gets.
Weapons: The Engine Blade
Abilities: His most notable ability is that he can transform into a freakin motorcycle
that can drive on walls and ceilings. He also has the Engine Memory, which has a few
modes that give the Engine Blade special attacks: Electric, for an
electrical attack; Steam, which creates a bunch of boiling steam; and
Jet, for fire based attacks or a energy slash. Other Soul Memories can be utilized by the Engine Blade such as the Cyclone Memory.
Finisher(s): Accel Glanzer - he pulls the clutch handle on the Driver and revs the
other handle, causing the Driver to announce a Maximum Drive. Energy
builds up in his body until he bursts into flame, then he charges and
performs a tornado kick, releasing the energy in the form of a tire
track carved in the air. A-Slasher - Using the Engine Blade, he activates a Maximum Drive and
cuts a huge red "A" into the air, sending it at the enemy and destroying
them. Accel Engine Dasher - By activating a Maximum Drive and
switching into Bike Form, the flames form and he can perform
essentially a super-powered dash through the enemy.




Form Name: Trial Form
Image/ Description: TRIAL
Motif: Motorcycle, Speed
Color Scheme: Blue, Yellow, Silver, Black
Transformation: He clicks open and inserts the Trial Memory, and the lights go, with
red, then yellow. At yellow, his armor turns yellow, then the last
light, which is blue, goes on, transforming him into Accel Trial.
Fighting Style: Speeds around the area at impossible speeds, delivering flurry of hits to his enemy before gracefully finishing them off.
Weapons: The Engine Blade
Abilities: He can move at incredible speed, but has sacrificed armor to do so, so he's a bit of a Glass Cannon.
Finisher(s): Machine Gun Spike - he pulls out the Memory and activates a ten-second
timer, tossing the Memory into the air. He charges and begins to kick
at lightning speed, striking anywhere from 80 to 130 times in a T
formation. He catches the Memory, and stops the timer, causing his
opponent to go boom. However, if he fails to perform this in under 10
seconds, he'll be immediately, forcibly and painfully dehenshined.




Form Name: Booster Form
Image/ Description: ACCEL, UPGRADE
Motif: Booster, Engine
Color Scheme: Yellow, Silver, Black
Transformation: He inserts the Accel Memory into the Gaia Memory Upgrader, and it
says, "Accel, Upgrade!" Once that completes, he pulls out the Accel
Memory and sticks it back into the Driver, revving it again to initiate
the transformation into Accel Booster.
Fighting Style: Flies around and kicks ass while doing it.
Weapons: The Engine Blade
Abilities: It's most notable ability is that it grants Terui the power of
flight, in addition to myriad rocket boosters allowing him to move
faster, strike harder, jump higher, et cetera. He also has more armor.
Finisher(s): Booster Kick - He floats in midair and revs the Driver, prompting it to
announce a Maximum Drive. He does a 360, before the engines kick in and he drives in, right leg extended, for a kick.




Form Name: Blackout Form
Image/ Description: Same as his normal Accel armor except the red is now black.
Motif: Darkness, Motorcycle
Color Scheme: Black, Silver, Blue
Transformation: Instead of using the normal Accel Memory, he inserts a black Accel Memory into the Accel Driver. He revs the handle a few times, and the Driver announces, "ACCEL" in a very low, distorted voice before this new black armor forms.
Fighting Style: He is corrupted by the power of the black Accel Memory and goes berserk - attacking both friend and foe. He uses the chain he can now create like a whip.
Weapons: The Engine Blade
Abilities: Like Accel Form, Accel Blackout can turn into a motorcycle and is pretty the same as his base form except for two major differences. One, his armor can now produce a thick black fog to blanket the area and blind his enemies. This fog also causes minor damage that increases the longer you are exposed to it (though Accel Blackout is immune to its damaging effects). Two, he can now produce chains made of dark energy from his wrists that can capture and bind foes. Using his Engine Blade, he'll most likely send an electrical current down the chain to weaken opponents or finish them off for good.
Finisher(s): He can use all the same Maximum Drives in this form as he does in his Base form, but instead of a red "A" it's a black "A" (A-Slasher) and instead of his body bursting into his flames - his body is shrouded in intense dark energy (Engine Dasher).




Form Name: CycloneAccel Extreme
Image/ Description: ?
Motif: ?
Color Scheme: ?
Transformation: ?
Fighting Style: ?
Weapons: ?
Abilities: ?
Finisher(s): ?



Other Equipment:


Diablossa - Ryu's personal Ducati 999 motorcycle. It has a holder for the Engine Blade.



Revol-Interchange Gunner A - a robotic tank that serves as Kamen Rider Accel's support droid. Its AI allows it to operate on its own from Accel. The technology is similar to Kamen Rider Double's HardBoilder and the front unit can also combine with the Gunner A to become the HardGunner. Accel Bike Form can combine with Gunner A to become the AccelGunner. The Accel Memory links with the Gaia Cannon to release energy similar to a Maximum Drive called the Gunner Full Break. It is also armed with the Gatling Wheel, Bike Form's back wheel turned into a machine gun.


Beetle Phone - is a mobile phone Memory Gadget that switches between Cell Phone Mode and Beetle Mode with the use of the Beetle Memory. It looks similar to the Stag Phone, except it has a blue Japanese rhinoceros beetle design. It used by Ryu for reconnaissance.



History
Prior to arriving in Fuuto, Ryu lost his family; his father Ryuji Terui, his mother and his younger sister when a Dopant froze them solid. They shattered at Ryu's touch, killing them. In his final moments, Ryu's father warned him to beware the "Man with the W Memory". Ryu, however, goes the opposite direction and is driven for revenge with the aid of the mysterious Shroud. Because it is the source of Memories, he develops a hatred of Futo and seeing it as a gathering place of all kinds of scum.
Ryu recieved his heavy Engine Blade from Shroud early on. He spies on the Narumi Detective Agency using his Beetle Phone while he waits for his Driver to be completed. Soon after, a new crime wave starts, eerily similair to his parents' death. Thinking he has finally found his families' murderer, he steps out of hiding, revealing that he has been spying on the Agency. He then gets his Driver and transforms into Kamen Rider Accel for the first time. However, Ryu goes overboard with the case, almost killing an innocent person he believed to be the Dopant. It turns out at the end of the case that the Dopant was Ice Age, and the W Dopant was still at large, putting things in perspective for Ryu.
Though he and Shotaro Hidari clash at first, Ryu becomes an ally to the Narumi Detective Agency when it comes to investigating the Dopant crime wave, as well as picking up some of Shotaro's habits in dealing with Dopants even after losing it upon finally finding his family's killer: the Weather Dopant, Dr. Shinkuro Isaka. After obtaining the Trial Memory from Shroud and learning to use it, Ryu is able to finally take his revenge on the Weather Dopant, using the Trial Maximum Drive to destroy his Gaia Memory.
Ryu stood before a broken Isaka ready to deliver the final blow to end his life, but found he didn't have it in him anymore. This man may have killed his family and deserved a much harsher death, Ryu was no killer. Instead Ryu slaps on the cuffs and prepares to transport Isaka to prison personally. He would be satisfied knowing that Isaka would spend the rest of his miserable life rotting away in some dark little cell.
Instead however, Isaka was killed by a knife thrown by a mysterious assailant in white before they could even get to the prison. Isaka was dead, but Ryu no longer felt any satisfaction. He was a cop and it was his duty to bring criminals to justice. Whoever this man in white was - he was going down.
It was sometime after this Ryu started getting close to a particular woman - a magician named Lily Shirogane. Ryu had helped her before when she had been turned permanently invisible thanks to a Memory given to her by Isaka. They dated a few times and it seemed as if they were going to go steady...until Lily was murdered. The culprit was the same man in white that taken Isaka's life not too long ago.
He revealed himself to also be a Kamen Rider that transformed using the Eternal Memory. Accel and Eternal fought only for Ryu to lose. Eternal gloated over Ryu's beaten and broken body that he only killed Lily to screw with Ryu's life. Ryu lost consciousness immediately when the man began to cackle like a hyena.
Ryu woke up several days later in a hospital bed with a few broken ribs and a depressed state of mind. Akiko Narumi stood by his side during these bad times and nursed him back to health. It seemed that Akiko had been harboring a crush on Ryu for quite some time now and it was during this time they were together that she confessed her feelings. Ryu wasn't sure how to respond. He didn't dislike the Chief, but his heart still fluttered every time he thought of Lily...
Akiko continued her advances until Ryu finally decided to let go of the past and embrace the future. There was just something he had to take care of first. It wasn't just about revenge. He needed to stop the Man in White from harming any more of his friends. He went on the radio and issued a coded message he was sure the Man in White would pick up on. He waited at the same stop he fought Isaka until the Kamen Rider known as Eternal finally arrived.
They fought and it seemed as if Ryu was going to lose this round too until he busted out Shroud's final gift to him - the Gaia Memory Upgrader. It allowed him to access the new Booster form which allowed him to totally wipe the floor with Eternal. Ryu eventually delivered the finishing blow in the form of a rider kick to the head. It sent Eternal flying into a nearby river where he was washed away by the strong current before Ryu could even slap the cuffs on him.
That was Ryu's definite win and even if the Man in White were to somehow return - he'd be ready for him. He laid one last flower on Lily's grave, promising her he would never forget no matter how hard he tried, and went on to meet with Akiko - oblivious to the events that have plagued Ryu for quite some time now. Ryu, finally free of his personal demons, accepted Akiko's feelings and eventually the two were married.
OOC StuffAnything Else:
OOC Name:
Quetz
Name Color:
#E60000
Number Of Stars:
6
Color Of Stars:
Blue